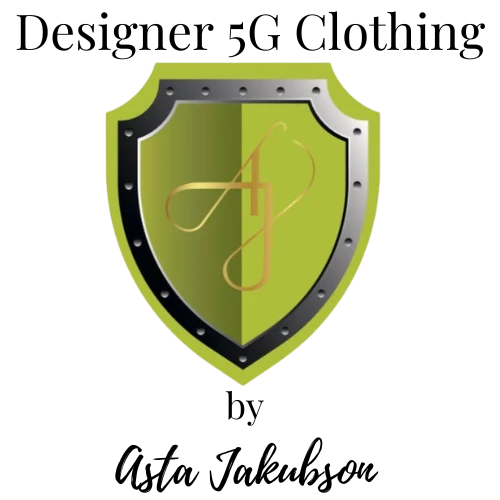 The inspiration for this sister collection Designer 5G Clothing by designer Asta Jakubson was
"I still remember getting that call &  feeling my heart sink when I heard my Mum had Covid. I felt so useless as I was in a different country & I could not be with her because of the lockdown restrictions. She lost her battle so young, an energetic 75-year-old woman who always ate healthily, always active, with a balanced diet. We had so many plans to do together, she was so proud of all of my success & I had so much more to show her!! I never got to hold her hand or be with her when she was passing, give her a hug or tell her how much I loved her.  After such a loss in my life I wanted to design something that would help others & protect them from harmful diseases..  After a lot of research, I found a protective fabric, engineered in Germany to the highest of standards & using my own fashion skills, I introduced Designer 5G clothing to the market"
Our silver benefits clothing collection is a protective range of tops, scarves, vests & under garments which protects us from this invisle killer called EMF. Harmful Electromagnetic waves or EMF as they are called are found in all everyday devices such as Wifi, laptops, computers, mobile phones & even microwaves!
Our products are made from 99.9% raw silver fabric engineered to the highest standard in Germany.
The benefits of wearing silver are;
Silver has significant health benefits
Silver has a proven track record as a powerful antimicrobial agent fighting infections
Silver ions aiding in cold, flu & virus prevention
Silver protects from harmful electromagnetic waves
But why do we need to wear EMF protective clothing you might ask. It can cause hormone imbalance, headaches, dizziness, anxiety & the scariest of all, it can increase cancer risk. Below is an educational video from a top TEDx speaker!
Join our mailing list below & get 10% off your first order or join our VIP list for regular offers!!